Call me on:
Tel: 01252 404365
Mob: 0784 988 9621
Easter Gift Voucher 2022
A perfect Easter present could be a Gift Voucher for Reflexology or Pedicure. Contact me as soon as possible and I can mail it directly to arrive in time for Easter.
Treatments Recommenced 4th May 2021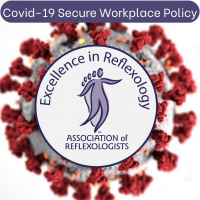 Treatments recommenced from the safer surroundings of a partly enclosed gazebo in the garden (during the summer months 2020).
What Is Reflexology?
Reflexology is a healing art that can be traced back thousands of years to ancient Egyptian and Chinese medicine.
First introduced to the UK in the 1960's, today it is an increasingly popular holistic therapy.
Working on the principle that all organs and glands within the body are linked by energy zones to specific reflex points
on the hands and feet, a Reflexologist can apply finger and thumb pressure techniques to stimulate all areas of the body.
Treatment is more frequently carried out on the feet, as they have greater sensitivity.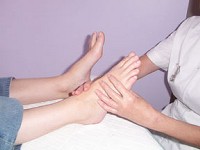 Reflexology may improve the circulation, breaking down waste deposits blocking the
body's natural energy flow and assists with elimination of toxins, which in high
levels may cause disease.
The aim of treatment is to create harmony within the body, enabling the natural healing process.
More About The Treatment
Pam Stroud is a Member of the Association of Reflexologists, and undertakes 'Continued Professional Development' (CPD) as a condition of membership. She holds an AQA Level 3 Diploma in Reflexology. Pam carries out weekday and some early evening treatments at her home in Farnborough, Hampshire. However, if for any reason you are unable to travel it may be possible to arrange a home visit. Please contact me to discuss your requirements.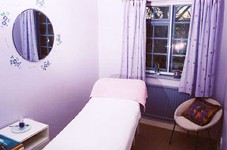 At your first appointment, which will last for approximately an hour
and a quarter, a consultation form is completed in order to establish
details of your lifestyle and any health concerns. A suitable plan for
treatment is then discussed, after which you can relax during the treatment.
A course of approximately 4 to 6 sessions may be taken when relief
is sought for a particular condition. After a course of Reflexology
a 'follow-on' appointment is suggested every two or three months to keep the body in balance, and maintain
health improvement.
Testimonials
Following the loss of my husband, I suffered from serious stress and depression. After my GP recommended Reflexology,
I found the benefits to be immediate and the relaxing effects of this treatment were enormously beneficial to both
my physical & emotional well-being.
Mrs AW, Church Crookham, Hants
Throughout my pregnancy I had Reflexology regularly. I had high levels of energy, and did not suffer from
any joint or back pain.
I was calm and relaxed throughout pregnancy and labour.
Mrs CB, Farnborough, Hants
I went to Pam for Reflexology to help with my Marathon training. Fantastic! I was more calm, relaxed and injury free.
I would recommend Pam to anyone.
Mrs EM, Farnborough, Hants
I took a course of Reflexology after suffering from repeated viral infections during the past year.
After a few treatments I was pleased to find my energy level increasing and my general health is much improved.
Mrs SH, Farnborough, Hants
June 2010
I have Mutiple Sclerosis and always feel better after my Reflexology, I have improved balance and more movement in my foot and ankle.
It is incredibly relaxing.
Mrs NA, Farnborough, Hants
March 2011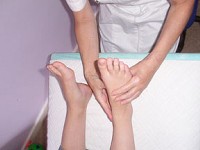 To maximise the benefit, Reflexology is usually taken in a short course of treatments.